Carrot Biscuits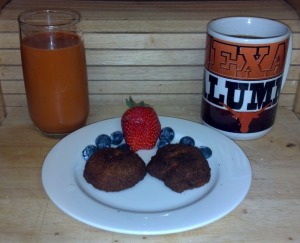 My New Year's resolution is to eat healthier this year. This means less potato chips, less chocolate candy (ouch), and less cookies. I am not giving up on bread and peanut butter though.
Anyway, yesterday I juiced enough carrots to make almost a half-gallon of carrot juice. You would not imagine the amount of carrot grounds that is left behind from that. I just could not throw it away. I tasted it and it still had that carrot flavor and of course that is where all the fiber is. A bit a bit of sugar on it made it taste even better. I decided to keep the grounds. They went into a Ziploc bag and into the refrigerator.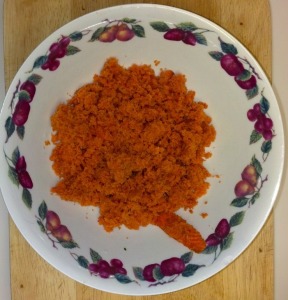 This morning while working out those damn grounds were on my mind. What can I do with them? Well in Panama we fry just about anything. I decided to make a fried carrot biscuit. Not to worry, I use soybean vegetable oil.
I first got about a cup of the carrot grounds out of the refrigerator. The carrot grounds were kind of stuck together so it needed to be fluffed. I then added a cup of flour, a teaspoon of baking soda, and a couple tablespoons of sugar. I took a spoon and mixed in all the ingredients.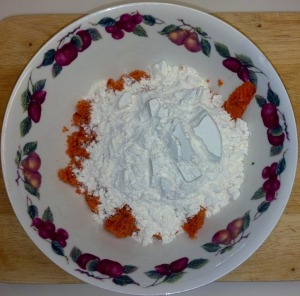 I then slowly added warm water (about a third of a cup) as I kneaded it for a few minutes.Remember, the amount of water is going to be dependent on how juicy the grounds are.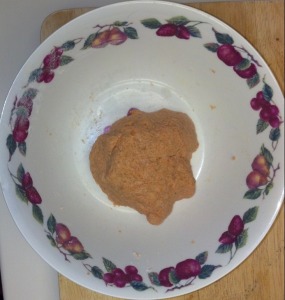 I let the carrot dough ball sit for about 15 minutes. I then formed three inch patties about half inch thick and fried it about 3 minutes or so on each side.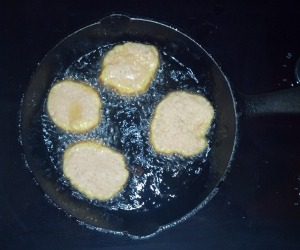 When I removed the biscuits from the frying pan, I placed them on paper towels to make sure most of the oil was absorbed. This ad hoc recipe made about 9 biscuits.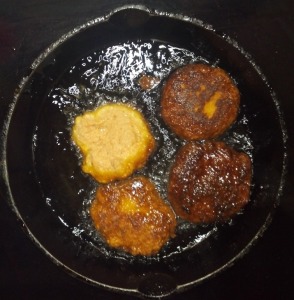 A cup of strong coffee, a glass of carrot juice with a couple ounces of coconut milk, strawberries, and blueberries were great sidekicks to the carrot biscuits. Giving that I will be juicing a lot of stuff in the near future, stay tuned.