My first Kale Smoothie with my new Ninja BL770 Blender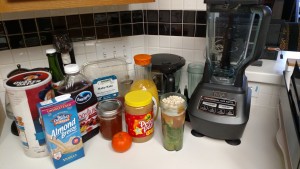 My daughter got me the Ninja BL770 series blender for Christmas. I love that machine. It has a 1500 watt motor. The big blender portion has layers of blades so the stuff does not stick in it nor does it require stirring and the like.
Anyhow, I really overdid it over the holidays. Too many parties with good food and too many snacks at home. In the process I am busting out of my 32s which is not good. I told my daughter that I will be using this Ninja BL770 everyday for a month. I will be eating just healthy smoothies and healthy snacks. It begins the day after New Year.
Well today is that day and I started on schedule. The Ninja BL770 blender has several attachments. The standard blender everyone is familiar with, a food processor bowl attachment, and two personalized glasses where you can blend and drink your smoothie from. That will be my daily workhorse.
My first smoothie was a Kale, Apple, Tangerine, and peanut butter smoothie. So how did I make it? I don't measure while cooking (The Experimental Cook, remember?). I eyeballed everything.
First I filled the Ninja BL770 glass loosely with kale, half an apple, and a small tangerine. I added about a tablespoon of peanut butter, a teaspoon of raw Honey from the bee hive of my good friend Kaitlin at Move to Amend, a teaspoon of agave syrup,  and tablespoon of oats. I added a few ice cubes, a splash of orange juice, a splash of cranberry juice, a splash of almond milk. I then blended them all together.
Out of the blue I decided to try adding peanut butter to the mix. It gave the smoothie a little more body and an exceptional flavor. I will likely use the actual peanuts to see what it does for the texture. The ninja is so powerful t will likely have no problem with any kind of additional nuts.